As we move through the last three months of 2022 and start to prepare forecasts and budgets for 2023, it's a good time to pause and reflect upon the past couple of years. We have seen unprecedented global turmoil, both in our personal lives as well as business. We have had to adjust at a pace never seen before, using technology more than ever to continue connecting to our families and loved ones, managing global businesses, and conducting and concluding business deals without the luxury of traditional face-to-face meetings. Global supply chains have been and continue to be disrupted as we have never seen before. We are now in a period of global economic uncertainty, and from a supply chain perspective, rapidly reducing freight rates, blank sailings, significant new capacity entering the market from 2023, and no specific timelines to prepare for a global recovery. 
The supply chain is the backbone of any business. It's the only function of any company that enables a design that becomes a product to reach a consumer and, ultimately, a sale, regardless of the buying terms.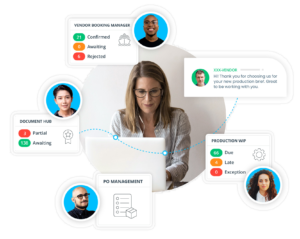 There are many players involved, from designers, buyers, merchandisers, optimizers, manufacturers, logistics providers, carriers, customs departments, ports, railways, overland transportation providers, distribution centers, online and offline stores, and many more. Essentially, many parties across many time zones and geographies, with the same end goal, 'to meet consumer demand.'
Given the complexity of the supply chain and the many players needed to execute the plan, each actor must be connected, giving one synchronized view of the entire critical path. Having accurate, timely insights driven by data is crucial for any business to run smoothly and efficiently.
Using technology to connect all the parties digitally is the only way to deliver efficiencies, have genuine insights into what's happening at every stage, and mitigate risk before or as it becomes apparent. Accurate visibility in a single platform with the key stakeholders having complete and transparent data-driven insights delivers efficiency and alignment and enables critical business decision-making with certainty.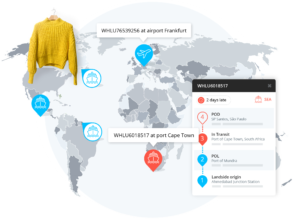 The supply chain is not 15 days before its due to reach a DC or the consumer; instead, a typical supply chain runs out to circa 75-100+ days, depending on the business and ordering cycles. Surely you would want to know at the earliest stage if something is at risk?
Siloed business units working independently of one another, dependent on updating via manual updates and via multiple sources, deliver nothing more than inefficiency and uncertainty.
It's no secret that supply chain disruptions has been around forever; it happens very often throughout the year and often when you least expect it. And make no mistake, disruptions are here and likely will stay for a long time to come. What we have experienced over the past couple of years, must teach us that technology is key in helping to get ahead of managing supply chain disruptions.
Technology not only helps get us on top of the supply chain but also manages the challenges and changing circumstances before or as they become apparent; reactively trying to salvage anything from a continuously evolving lousy situation is a recipe for disaster.
It's not rocket science; if you cannot see it, you cannot act with certainty. It's inexcusable for a business not to have a fully connected data-driven visibility throughout the critical path. Logistics providers managing BCO supply chains owe it to their clients to have complete and transparent actionable insights.
So when freight forwarders and logistics providers 3rd, and 4th party logistics providers are looking at 2023 budgets, you must factor in digitizing and delivering efficiency into your business, your processes, and your client's businesses. Managing supply chains is more than just seeing a container on the water. Managing your client's expectations to meet the consumer demand is understanding and enabling supply chain management at not just the PO level but the PO down to the lowest denominator (style/sku/part no/batch No), etc. It's having complete visibility at the first mile and having insight into the vendors before ex-factory dates. It delivers customer service at unprecedented levels of visibility, enabling your customers to manage their businesses efficiently and act on these insights to make critical business decisions with certainty.
Come and talk to us at Gravity Supply Chain Solutions, and let us show you how we enable true end-to-end supply chain visibility and control.
CEO @Gravity Supply Chain Solutions