While we head into an uncertain macroeconomic environment with sky-high inflation and the looming threat of recessions, never has it been more pertinent to take full control of supply chains, especially at the first mile.
Resolving the last mile starts with optimizing the first mile.
Without a transparent view of first mile stakeholders and the agility to adapt to consumer needs, companies lack the building blocks to achieve last mile success. Agility matters not only from multi-modal shipments but from managing and streamlining purchase orders to fulfill demand. Having a transparent view of your vendor's compliance, you can identify bottlenecks before they may occur. By connecting all stakeholders from first to last mile, Gravity's platform provides a single source of truth of your supply chain.
Gravity is excited to join the global supply chain community at CSCMP EDGE 2022 in Nashville, Tennessee on September 18 – 21 to discuss on the upcoming volatile and evolving supply chain climate and what companies can do to get ahead of their peers. This year's conference features over 100 sessions spanning the end-to-end supply chain with a wide variety of new ideas, insights and technological solutions to a wide range of supply chain challenges. [See the full agenda here]
Join us at CSCMP EDGE 2022 Booth 134
Gravity will be exhibiting in-person at Booth 134 to offer attendees information and live demos of our platform, and share how we have helped global enterprises get ahead of its first mile challenges and drive multiple ROI outcomes during the challenging last 1.5 years at the height of the supply chain constraints.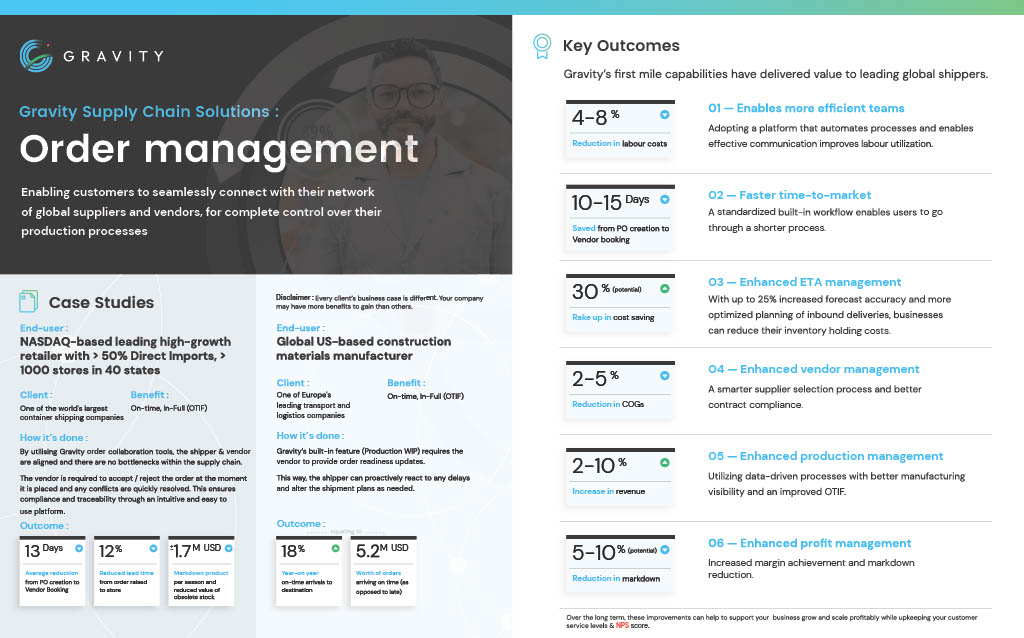 To learn more about how Gravity can help you to optimize on the first mile, schedule some time with our team at CSCMP Edge 2022. Stop by booth 134 to connect with our expert supply chain and solutions professionals, Gavin Webber, Gary Gonzalez and Don Ogden, and learn how Gravity can help you achieve complete control and have total visibility of your supply chain.