A significant quantity of global freight transport movement is part of a multimodal transport chain, particularly for port-related containerized transport flows. 
We Are More Closely Connected To The Invisible Than The Visible — Novalis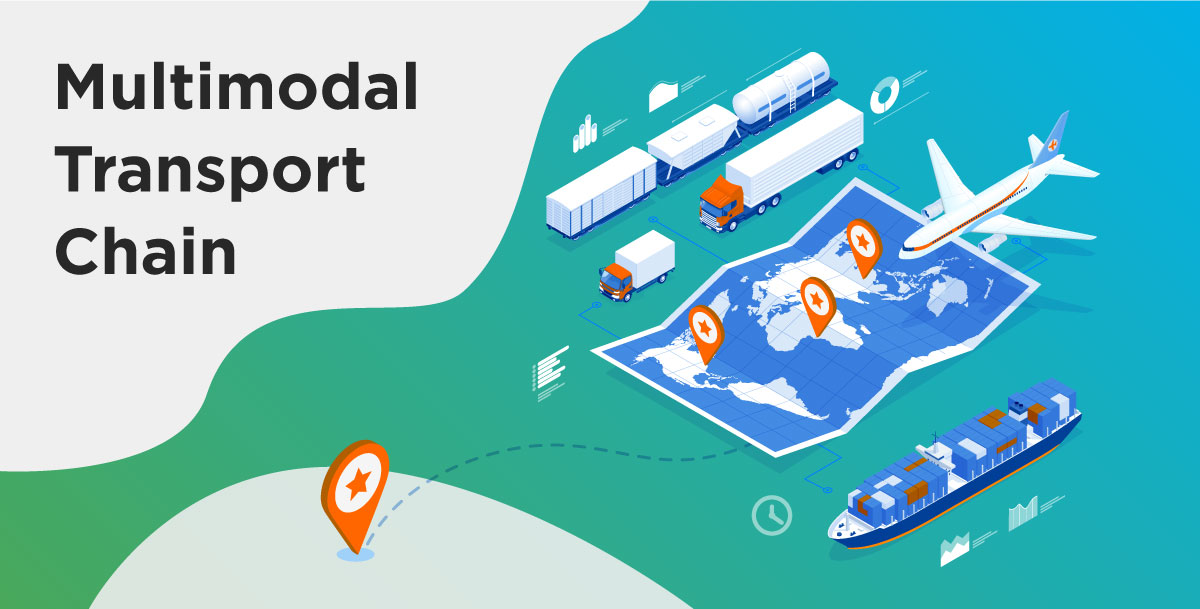 Multimodal transport chains often lack the end-to-end visibility throughout the supply chain required to effectively reduce costs and risk, with containers often lost from view until they appear at specific points in the supply chain. 
The Need For Actionable Insights
Unfortunately, this issue is further compounded by inaccurate estimated time of arrival (ETA) data, especially when ETA's change and cargo owners don't get proactively notified. These issues help exemplify why it is business-critical to digitize and deploy technologies that enable a completely integrated ecosystem of planning and execution strategies to provide full visibility at every value chain touchpoint.
Digitization Raises Supply Chain Performance
Connecting data is known to be an integral part of digital transformation. However, achieving 'true' end to end, visibility into multimodal supply chains requires a holistic, unified, futureproof approach to data exchanges. Without visibility into where inventory is at any given time, cargo owners cannot meet market demand and cannot manage disruption or unforeseen changes. 

Fast Facts
According to The Athenian philosopher Plato (c.428-347 B.C.)  'A good decision is based on knowledge, and not on numbers.' So, we've put together some interesting information starting with some cool facts from Costamare Inc. that exemplify how container ships are the most efficient mode of transportation for goods:

Today's container ships can carry about 22,000 TEUs
A container vessels' carrying capacity is equivalent to no less than a 44 miles long freight train
A large container ship's engine weighs up to 2,300 tonnes and has about 1,250 times more power than the standard family car
Standard containers can hold almost 25,000 tin cans or about 48,000 bananas
A 40 ft container can hold more than 12,000 shoeboxes

Before the COVID-19 crisis grounded flights globally, the typical cost of transporting a 20 ft container from Asia to Europe loaded with over 20 tonnes of cargo was equivalent in price to a single passenger economy airfare on the same journey
It Doesn't Stop Here!
Data released by The International Chamber of Shipping indicates:
11 billion tons of goods get transported by ship each year – that's around 1.5 tons per person based on the current global population.

Shipping provides economic and efficient long-distance transport opportunities placing it at the epicenter of the world economy

For an economic region such as the European Union, shipping accounts for 80% of total exports and imports by volume, and some 50% by value.
Statistics released by Billy Box state:
17 million+ shipping containers are in circulation across the globe

5 million+ shipping containers are in active operation, making 200 million trips per year 
According to:
'More Than Shipping' 
A container ship travels the equivalent of three-quarters of the way to the moon and back in one year during its regular travel across the oceans.
Shipping containers account for about 90% of the non-bulk cargo transported in the world. 

10,000 Shipping Containers get reportedly lost at sea each year, representing a staggering revenue loss for companies that reach well into millions of U.S. dollars. 
Communication Is Crucial To Success

While the basic shipping principles remain unchanged, a third of ocean freight ships have no communication at sea, but, fortunately, technological tools available have evolved exponentially. 
Companies that digitize enable full visibility, transparency, traceability, and accountability, and this is essential for mitigating risk and ensuring that you can meet your customer expectations ahead of your competition. 
Why not contact us for a chat about our shipment tracking technology' – Shipment Tracker Enterprise' and 'Shipment Tracker GO!' to learn more about what it can mean for you and your company?