Integrate Your Supply Network With Gravity
Gravity Supply Chain is a state-of-the-art technology platform that integrates your entire supply network by capturing data from your existing technology systems and those of your partner companies, suppliers and customers – becoming the focal technology system that allows you to achieve significant operational efficiencies.
Why You Need Transparency And Data Integration
Today's supply chains operate in data silos. Our research has found that on average the Purchase Order to Distribution Center supply chain involves roughly 200 process steps, 50 people and 12 systems where data gets passed around manually – and this doesn't even include external disruption factors such as weather.
These manual processes are time drains. They also exacerbate the fragmentation data stored in proprietary systems, which in most cases is not accessible to other affected parties. Fragmentation in the form of silos and time-wasting processes prevents you from succeeding in today's fast-paced, e-commerce driven economy.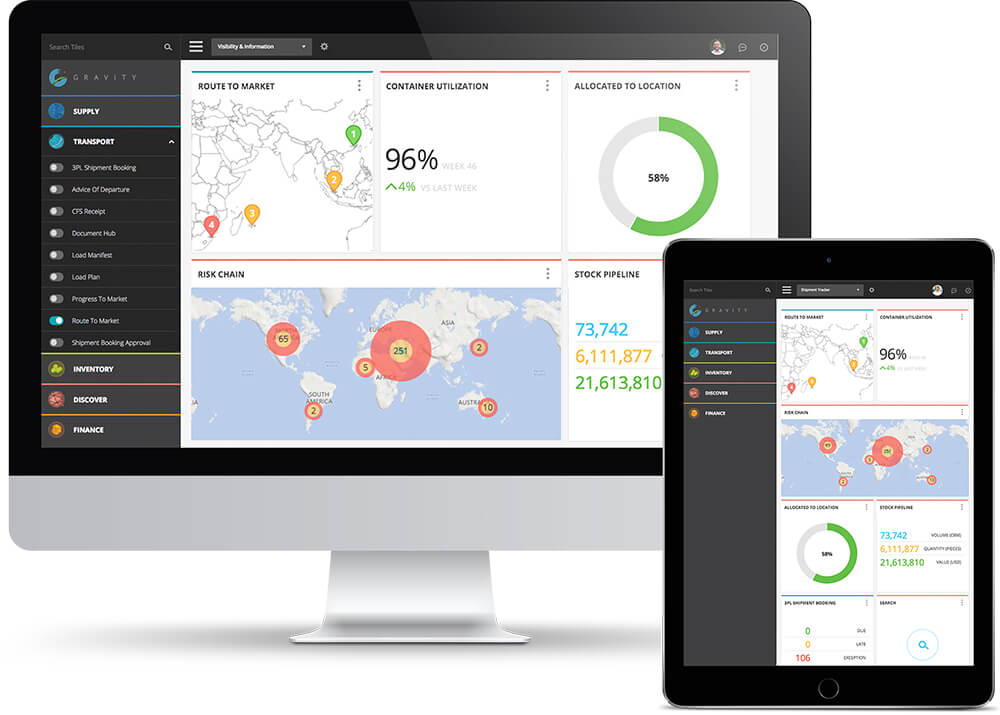 Gravity Supply Chain Solutions is recognized as a Top Logistics Technology Company.


Gravity's software delivers improved operational efficiency, profitability 
and real time visibility with:
Real Time Data Delivery

Get data direct from the source, whether it's in your existing own supply chain systems, within your partner's operations, or from thousands of external data sources like ports, carriers, IoT devices, and weather feeds.
.
Automation
Benefit from fast and easy integration with your existing technology systems, your customers', and your customers' partners' systems (e.g., operational, TMS, WMS).
Improved Collaboration
Gravity technology makes communication more efficient by having everybody on one common platform.
Actionable Insights
A clean and intuitive user experience (UX) allied with realtime data capture predictive analytics provides you with the information to react quickly or plan ahead.


Request a live demo of Gravity
About Gravity Supply Chain
Gravity Supply Chain is a state-of-the-art technology platform that gives Logistics Providers, Manufacturers, Retailers, and Brands unprecedented 24/7 visibility into their entire supply network. By uniting all industry stakeholders on one platform, Gravity's platform drastically improves cooperation and decision-making at every stage of the supply chain..